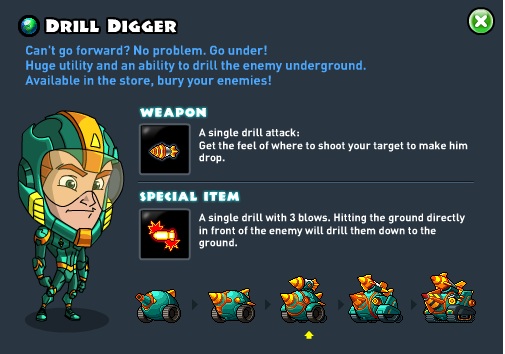 The Drill Digger is focused on endurance. It is the most defensive tank out of all of the basic tanks in the game with high health and defense. It has a medium blast radius and its basic attack drills though the ground that it hits. Its driver: Bene is sided with Earth in the battle against Pluto.
The Drill Digger's special fires a more focused missile that can penetrate the earth more deeply than its normal attack. The Drill Digger's special also does 3 blows,more damage and less of a blast radius. This attack can also can be awesome.
Ad blocker interference detected!
Wikia is a free-to-use site that makes money from advertising. We have a modified experience for viewers using ad blockers

Wikia is not accessible if you've made further modifications. Remove the custom ad blocker rule(s) and the page will load as expected.